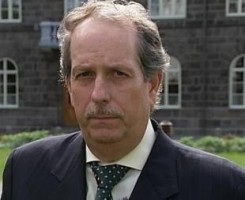 Unbelievable, – to see professionalism at work in this godforsaken country is just astounding.
First (although I didn't have any faith in it) the Special Investigation Commission (SIC) released it's report.
And now, the Icesave negotiation team under the leadership of Lee Buchheit has produced another landmark.
Eva Joly got French and Norwegian investigators to look at two of the failed banks and they have confirmed the SIC's report, 'negligence' on behalf of bankers and auditors and they have condemned PriceWatherhouseCoopers for not adhering to International Standards.
The Special Prosecutor is predicting legal action against some of the "culprits" early next year.
Even the former PM will have to face an Impeachment Court, although I would have preferred to see all of the accused ministers there with him.
Faith in politicians is at an all time low (<10%), but hopefully the Constitutional Assembly will manage to curb the current unhealthy and corrupt political "cult" for something better.
The SIC Report
Ministry of Finance
the Special Prosecutor
The Constitutional Assembly