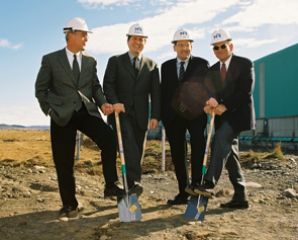 or Prospectors, Scavengers and Vultures.
Not a day passes without our minders telling us about our true benefactors, those who come baring investor gifts: jobs, development and yes financial growth – all this at no cost to us – Hallelujah.
Somehow our narcissistic media missed this insignificant and 'slanderous' report.
"From Kazakhstan to Australia, taking in the views of Zambia, war-stricken Congo and Angola, cutting across from Siberia to Iceland is a network of mining and metals companies with a catalogue of environmental and community abuse in their wake. In Iceland its face is Century Aluminum, but behind them, at the heart of this web lies the secretive commodity broker Glencore International of Switzerland."
"The importance of commodity markets has been intensified by the 2008 financial crisis. From 2003 to 2008, the commodities future market grew 1900%, from $13Bn to $318Bn55. Part of this is a shift out of stocks and shares to capitalise on increased growth in China and on natural disasters, which are helping push up the prices of basics. Brokerages such as Glencore make their money from trading on shortages" … "Rather than deal on the open markets, the main business deals are done in private, away from scrutiny."
From Siberia to Iceland: Century Aluminum, Glencore and the Incestuous World of Mining
–
War was good to Alcoa
Chinese billionaire (Poet) to purchase big chunk of Iceland
–
Corruption around foreign investment (is)
10 facts about the Nubo issue (is)
–
Vultures' Picnic
The Best Democracy Money Can Buy
Walking with the Comrades