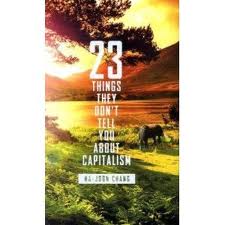 23 Things They Don't Tell You about Capitalism
Ha-Joon Chang dissects 23 mantras from the neoclassical free market priesthood with humor and intellect which is truly singular.
"Kicking Away the Ladder" was the first I read by Ha-Joon Chang, which voiced the silent fact that empires don't play by their own rules. However, this was well before our collective and enforced education in economics, or rather the peculiar absence there off – so succinctly expressed by Her Majesty the Queen
–
The Methodology of Economics
This Time Is Different: Eight Centuries of Financial Folly
The Best Way to Rob a Bank Is to Own One
The Price of Inequality
–
Debunking Economics
Inside Job
Complex Systems 
In Growth We Trust (the simple math 1 to 8)
–
It's save or GIGO
Debt and Democracy
Captured Nobel Prize
Unpacking Mr. Global
–
Jekyll Island 
People & Power
Captured Anniversary
–
& the list is growing
"Mr. Global" kills with impunity, – but is this The Coming Revolt of the Guards?